Sean Grosman outguns Glenn Watson for Delaware Win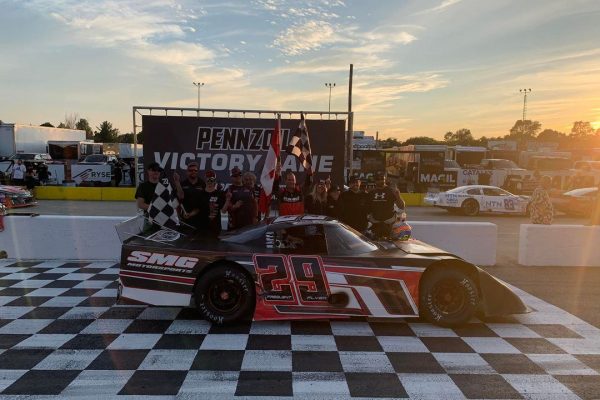 Monday - July - 2022
DELAWARE, ON – SMG Motorsports founder Sean Grosman stood atop the podium in Round 2 of the Ontario Outlaw Super Late Model Series at Delaware Speedway.
The Florida native was made to earn every bit of his victory, as multi-time Super Late Model champion Glenn Watson threw everything he had at Grosman, but was ultimately forced to settle for second.
"Glenn is a fantastic competitor and it's always fun to race side-by-side with him," remarked Grosman post-race. "Neither of us wanted to give an inch all race, but he's a true professional and raced me clean all night"
"I had the outside on the last restart and that really helped us," added 'The Frequent Flyer'. "The car was good on the outside all race, so I was incredibly happy to be there at the most pivotal time of the night"
"It's a huge deal for our entire team because my guys have worked so hard getting us to this point. This car has been a bit of a handful since we bought it, but my guys and the team from McColl (Racing Enterprises) put in a ton of time and effort and the results were awesome"
Watson left Delaware with his second consecutive runner-up finish this season, but was ultimately satisfied with his result after battling handling issues late in the race.
"Obviously we wanted the win but to leave here with a clean car and a (runner-up) finish is something to be happy about," noted the Barrie, ON veteran. "We just got too tight on exit after that last restart. I could drive it in alright, but as soon as I got back in the gas the car just wanted to take off to the wall". "Delaware's a fast track and when things happen there – they're usually big," added Watson. "For us to avoid anything like that, and leave with our equipment in one piece, that's a huge positive for me"
Championship hopeful John Cadman fell out of the contest early, suffering motor issues that saddled the former champion with a disappointing 10th-place finish.
"We broke a valve spring on lap-2," reported a dejected Cadman post-race. "It's a shame because the car felt quick all day. I genuinely believe that we had the car to beat from the time we unloaded"
"We've been plagued with motor issues since this time last year, so hopefully now we can turn that corner and put them behind us. We've buried ourselves in the points standings a bit, so hopefully we can turn things around at Sauble this weekend."
The Ontario Outlaw Super Late Model Series will have a quick turnaround, with Round 3 taking place at Sauble Speedway this Saturday, July 9th.