Brandon Passer Takes Peterborough Speedway Ontario Outlaw Super Late Model Win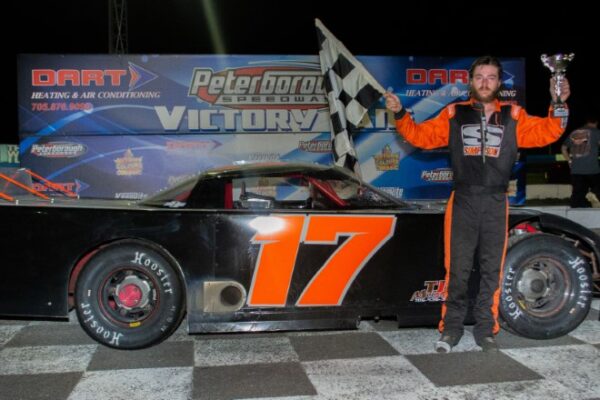 Sunday - August - 2021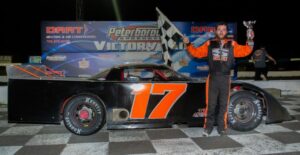 Brandon Passer Takes Peterborough Speedway Ontario Outlaw Super Late Model Win
By Jim Clarke, Clarke Motorsports Communications/First Draft Media
Ontario Outlaw Super Late Model machines are known for their unique brand of unbridled, ground-pounding horsepower. Saturday, August 28th, the tour's long-awaited Peterborough Speedway return brought a baker's dozen of the best in the business to Canada's Toughest 3rd Mile Oval.
With Brandon Passer and John Owen on the front row, teams had 50 laps to settle the score on the popular Central Ontario speedplant. Passer shot out to an early lead on the initial green flag, with Owen and multi-time Peterborough winner Glenn Watson hot on his tail. John Cadman Jr. and Dario Caprichio joined the lead trio to create a 5-car breakaway around the same time as the race's first caution flag waved to slow the pace.
With the green back out, Passer picked-up where he'd left off but now had Watson on his back bumper and Owen in 3rd. The driver of the No. 22 car threw everything he had at the leader but couldn't take the position away. The 3 veterans were now a few car lengths ahead of the 4th and 5th place cars.
Another yellow flag – that turned into a lengthy delay as track crews worked to clean up a fluid spill that went all the way around the racing surface – put everyone back together. A few laps after the restart, Watson slipped a little in the 2nd turn and that was all the invitation Cadman needed to steal away the runner-up spot, with Owen taking away 3rd with a lap 21 pass. The leaders caught the tail-end of the field near halfway and that's where things got interesting. Even though the backmarkers were fighting for their own positions in the running order, the frontrunners managed to work through the traffic.
Brandon Passer held-on for the win, with Cadman, John Owen, Mike Wilkinson and Ethan Courneyea completing the top 5. Watson, Caprichio, Marlie Owen, Todd Campbell, Adrian Foster, Tyler MacKenzie, Mike Miller and Ryan Dick rounded out the finishing order.
Caprichio had a pair qualifying heat wins, with Watson and Campbell taking the others.
Ontario Outlaw Super Late Model Peterborough Speedway notes: Marlie Owen – a Peterborough Speedway regular who has been running with the APC Super Stock Series – made the show in her father's red car, while John Owen wheeled the black one. Her performance received some positive comments from other drivers in the field.
Photo attachment: Melissa Smits, One Nine Marketing. www.facebook.com/oneninemarketing 
Prepared by Jim Clarke, Clarke Motorsports Communications/First Draft Media
clarkemotorsports@hotmail.com, www.facebook.com/clarkemotorsports
613.968.6410
| | | |
| --- | --- | --- |
| Pos. | Car # | Driver |
| 1 | 17 | Brandon Passer |
| 2 | 71 | John Cadman |
| 3 | 2 | John Owen |
| 4 | 27 | Mike Wilkinson |
| 5 | 51 | Ethan Courneyea |
| 6 | 22 | Glenn Watson |
| 7 | 03 | Dario Caprichio |
| 8 | 21 | Marlie Owen |
| 9 | 07 | Todd Campbell |
| 10 | 52 | Adrian Foster |
| 11 | 28x | Tyler MacKenzie |
| 12 | 73 | Mike Miller |
| 13 | 88 | Ryan Dick |
Heat Race Winners – photos by OneNine Marketing – for actual images contact https://www.facebook.com/OneNineMarketing/
OneNine Marketing's Facebook gallery  https://www.facebook.com/media/set/?vanity=OneNineMarketing&set=a.867096977578957