John Cadman Wins Frostoberfest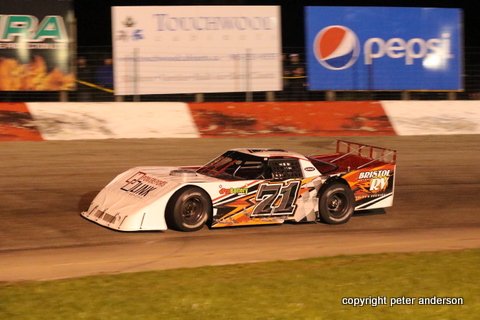 Wednesday - October - 2021
MILLGROVE, Ontario — Running inside the top-three from the drop of the green flag, John Cadman was able to take advantage in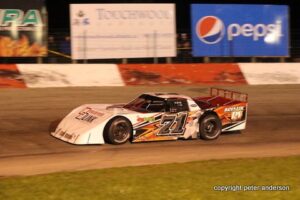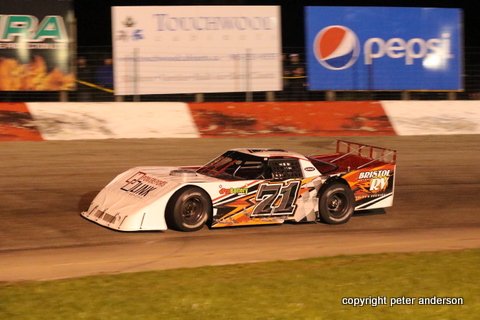 the final laps and win the Frostoberfest feature for the Ontario Outlaw Super Late Models at Flamboro Speedway.
Cadman started off the day by posting the quickest lap in time trials at 14.777 seconds to beat Glenn Watson (15.067), Dustin Jackson (15.221), Brandon Passer (15.363), and Dario Capirchio (15.475).
An invert of four would put Passer on the pole for the start of the 50-lap feature in front of Jackson, Watson, Cadman, Capirchio, Mike Miller, John Owen, Trevor Monaghan, Mike Wilkinson, and Logan White. Chris Burrows started 11th, followed by Tyler Mackenzie, Marlie Owen, and Todd Campbell.
Passer would take the early advantage off the drop of the green flag, with Watson and Cadman falling in line closely behind. It'd be a small gap back to Capirchio, who was able to get ahead of Jackson for fourth, as Miller held sixth in front of Owen.
Passer would look to have things in control, poised to possibly repeat his success from earlier this year at Peterborough Speedway,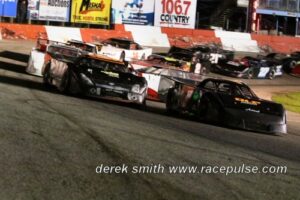 when it all began to fade away in a matter of four laps. He would be passed for the top spot on Lap 10 for Watson, with Cadman falling suit. Passer then began to slow four laps later, with the caution coming out as the motor expired on the No. 17 Super Late Model.
A star-studded front row restart would see Watson move ahead of Watson, as Capirchio and Jackson fell in line not far behind the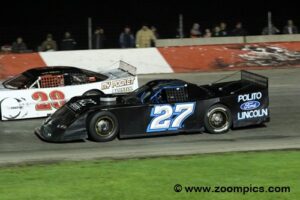 leaders ahead of Wilkinson, Miller, Owen, Burrows, and Monaghan.
Although Watson held down the advantage all the way through to the halfway mark of the event, he was unable to get away from the field with Cadman closely stalking him. Each time through the corners, Cadman would peek the nose below Watson, looking for a way by for the top spot.
Cadman made his move on Lap 41, getting underneath Watson. As the pair ran side-by-side, Watson got loose on the outside in turn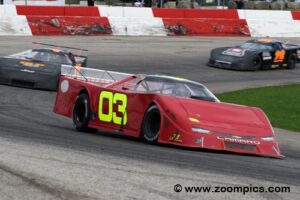 four, with a tap from Capirchio sending the No. 22 Super Late Model spinning into the infield grass. As Watson sat there, Miller would follow suit with a spin on his own the following lap, bringing forth the second yellow flag at Lap 42.
John Cadman would get a good restart, pacing the field through the final eight laps, en route to scoring the victory. Dario Capirchio finished second, followed by Dustin Jackson, John Owen, and Mike Wilkinson. Chris Burrows finished sixth, followed by Mike Miller, Trevor Monaghan, Glenn Watson, and Tyler Mackenzie. Logan White, Marlie Owen, Brandon Passer, and Todd Campbell failed to finish, while John Fletcher did not take the green flag.
Report by Ashley McCubbin