John Cadman Dominates Super Late Model Return to Delaware Speedway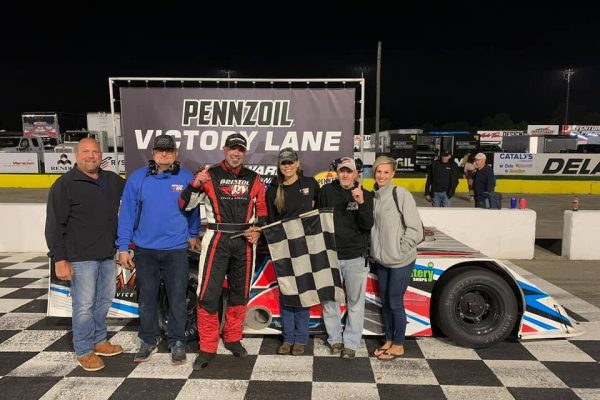 Sunday - August - 2022
DELAWARE, ON – On a night in which his sponsor – Bristol RV – was the promoting partner of the event, veteran John Cadman picked the perfect night to get red-hot.
The Smithville, ON product dodged a caution-filled affair, leading every single lap of the event to secure his first Ontario Outlaw Super Late Model Series win of the 2022 season.
"I felt like we came into Delaware with unfinished business," smiles Cadman. "We had the car to beat the last time we were here (in July) and it was real good on Saturday, too. It felt amazing to have things go our way for a change. We've had a rough time the last two years and this just feels like the start of something big for us to close out our season with"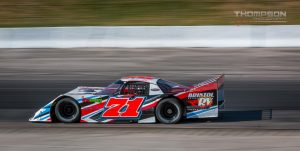 With such an impressive performance in his hip pocket, Cadman will undoubtedly enter the tour's next event at Sunset Speedway's Fall Velocity Weekend in September as a driver to keep an eye on.
However, another driver that appears to be getting hot at the right time is former OSCAAR Modified Tour virtuoso Gary McLean, who broke through for a runner-up finish at Delaware and appears primed for a strong finish to the 2022 campaign.
"We had pretty basic expectations going into Delaware – just a solid shake down and starting on a note book," shrugs McLean with a grin. "This car was straight off the surface plate, into the trailer and on the grid with zero practice"
"We were originally going to drop to the tail in the qualifier because the car was so green, but once it got up to speed it felt reasonable, so I stayed in the group and judged it more from the first corner"
"For a totally redone car – and a super rusty driver – I couldn't believe how well we qualified," admits McLean. "I didn't think we had any right to accept the starting position, but a couple of the other teams convinced us to start in the spot we qualified in"
"To finish 2nd on our first night out – that's a testament to (Crew Chief) Greg Gibson's ability to set up a racecar and our team's effort to ensure it was ready to go. I had never dreamt that we would be able to unload a top-3 car in a series as stout as this one"
"We left Delaware with zero damage so that gives us the time to go back to the shop and work out some of the 'new car bugs' to be even better at Sunset in a few weeks."
Cadman, McLean and the rest of the Ontario Outlaw Super Late Model Series will next be in action at Sunset Speedway on September 18th
Delaware Speedway – August 12
1
John Cadman
60
2
Gary McLean
57
3
Brandon Passer
56
4
Dario Caprichio
55
5
Mike Wilkinson
54
6
Sean Grosman
53
7
Ethan Courneyea
52
8
Mike Miller
51
9
Adrian Foster
50
10
Thayne Hallyburton
49
11
Chris Burrows
48
12
Glenn Watson
47
13
Ryan Dick
46
Heat 1 Winner:  Glenn Watson
Heat 2 Winner:   John Cadman