J.R. Fitzpatrick Scores Super Late Model Frostoberfest Feature Victory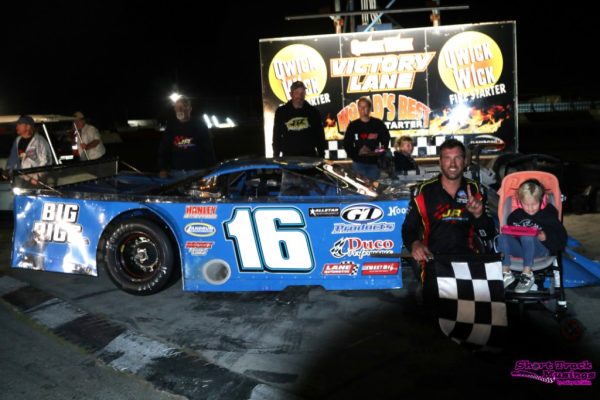 Monday - November - 2023
MILLGROVE, Ontario — Despite having to take the green from the tail of the field, J.R. Fitzpatrick worked his way through the traffic en route to winning the Ontario Outlaw Super Late Model Frostoberfest feature on Saturday at Flamboro Speedway.
Fitzpatrick laid down the quickest lap in time trials at 15.543 seconds, but was disqualified in technical inspection due to being slightly underweight. As a result, he gave up the pole to start tail of the 16 car field.
The past Flamboro Speedway track champion wasted no time making his way through the traffic, breaking into the top-10 on the second lap, before finding his way inside the top-five with 10 laps on the board. He continued to make moves, ultimately taking over the lead at the halfway mark from Glenn Watson.
Despite a restart with 10 laps to go, Fitzpatrick was able to maintain his advantage over the competition, finding himself in the lead when the race was called with five laps remaining due to the lights going out around the speedway.
Doug Gillispie ran inside the top-five throughout, making his move on the final restart for a runner-up in front of Todd Campbell and Chris Burrows. Glenn Watson led eight laps en route to placing fifth, which was enough for him to be crowned the 2023 Ontario Outlaw Super Late Model Champion.
Brandon Passer battled just outside the top-five to sixth ahead of Gary McLean, who rebounded for seventh after an early race spin due to a flat tire after contact. Thayne Hallyburton was eighth in front of Mike Wilkinson and Mike Miller.
Chase Wilson slowed with 10 laps to go, with Charlie Gallant making significant contact with the rear-end of the No. 77 machine and the outside wall en route to placing 11th and 12th, respectively. Dario Capirchio and Randy Capassie followed, while Scott Beatty and Adrian Foster did not take the green flag.