Glenn Watson Wins Inaugural 75 Lap Ontario Super Late Model Feature At Flamboro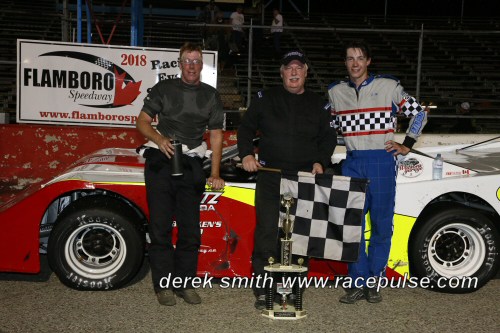 Monday - June - 2018
By Randy Spencer for Flamboro Speedway (Milgrove, Ontario) : The newly formed Ontario Super Late Models series made their debut at Bennett Chevrolet Flamboro Speedway and what was thought to perhaps be a battle of the Watson's turned out to be a one man show.
Eleven Super Late Models were ready to go for time trials and three cars took to the track at a time to see who could set the fast lap. Todd Campbell turned a fast lap in the first threesome with a 15.075. Brandon Watson who always does well at Flamboro set the new fast time with a 14.751. Glenn Watson however wouldn't be out done and the veteran Super Late driver was just a bit quicker with a 14.739 to take the pole. After the dice roll, an inversion of three would take place. They would hit the pits for some adjustments to ready for their inaugural 75 lap main event to close the night.
The final race of the night was the 75 lap main event for the Ontario Super Late Models. As the cars hit the track and were getting into line, the 9 car of Brandon Watson slowed to a stop out of two. He would need a push and his night was done as he had some drive line issues. John Cadman would line up along side Glenn Watson and Watson led lap one. He would settle in but a caution on lap 19 as Jordan Howe and Cadman made contact and were around. On lap 35 the two met again and Cadman went up over Howse's wheel and a catastrophe was averted and both cars continued. A caution on lap 52 as the 64 car of Chris Burrows was around. We continued green the rest of the way and Glenn Watson really never was tested and picked up the feature win followed by Howse and Todd Campbell.
Ontario Super Late Models Time Trials : #22 Glenn Watson 14.739, #9 Brandon Watson 14.751, #71 John Cadman 14.753, #72 Jordan Howse 14.928, #29 Sean Grosman 15.013, #07 Todd Campbell 15.075, #52 Roy Passer 15.334, #03 Dario Capirchio 15.482, #29x Ryan Kimball 15.510, #51 Jamie Richardson 15.653, #64b Chris Burrows 15.843
Ontario Super Late Models Feature : #22 Glenn Watson, #72 Jordan Howse, #07 Todd Campbell, #71 John Cadman, #64b Chris Burrows, #51 Jamie Richardson, #29 Sean Grosman (NF), #52 Roy Passer (NF), #29x Ryan Kiball (NF), #03 Dario Capirchio (NF), #9 Brandon Watson (NS)