Glenn Watson Tops Ontario Outlaw Super Late Model Series Standings in 2022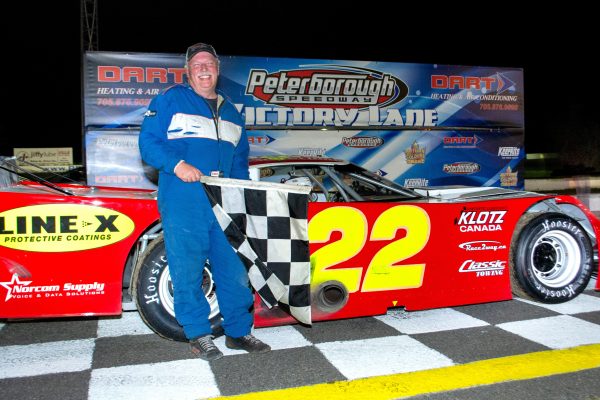 Thursday - December - 2022
Barrie, ON – Longtime Super Late Model headliner Glenn Watson was back to showcasing why he has long been considered one of the best competitors in Ontario – regardless of division – with a masterful 2022 campaign that resulted in a second-consecutive Ontario Outlaw Super Late Model Series title.
"It's a phenomenal feeling to add another championship to our resume," says Watson. "I love racing these cars. There's nothing else like it. I feel like our team had some really good races this year. We raced hard and every single guy on our crew had a great time. There's a whole lot of talent in this series, so to come out on top again is a big accomplishment"
Watson outran rising star Brandon Passer who, after winning the famed Don Biederman Memorial early in the season, pressed Watson all summer long, eventually finishing only 4-points outside of the championship.
Well-travelled veteran Sean Grosman finished 3rd in series points, and was very pleased with his SMG Motorsports outfit's efforts throughout a full season on tour.
"Our car was, for all intents and purposes, brand new at the beginning of 2021," explains Grosman. "And, when we ran it at the end of [last] season we had a massive engine issue. So, we tore just about everything down over the Winter and double and triple checked everything to make sure we were prepared for a full schedule"
"We won an event at Delaware fairly early in the season and that was huge for our confidence. We'd only been (to Delaware) once before so that win let us know that had some promise for this season. All year I just wanted us to focus on consistency as opposed to wins and that was the key to our season. I can't thank my guys enough, because they've never stopped working. None of this would've been possible without them"
Limited Late Model transplant Dario Capirchio had his best year on tour in 2022, winning the series' event at Laird International Raceway in Sault Ste. Marie, ON and looking every bit like a contender week-in and week-out.
"This was a great year for us," says Capirchio. "To win at Laird was absolutely the highlight for us. They have a real good local scene up there and this tour is full of real tough cars. So, to go to a track we aren't familiar with and win – that's a massive confidence boost. We've already started to rebuild our car (for 2023) and we're hoping to come back and chase down a championship next season"
The tour has confirmed it will be back for a full tour in 2023 with plans – including a complete schedule – set to be released shortly!