Glenn Watson takes the Canada Day 75 at Sunset Speedway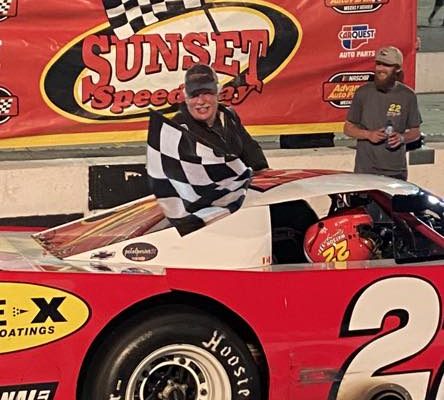 Monday - July - 2023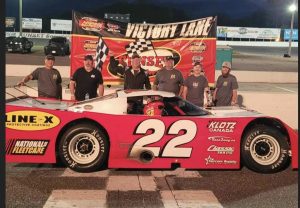 Glenn Watson takes the win, followed by Brandon Passer and Ethan Courneyea
Five Takeaways from Sunset's Canada Day Cash-In
New Car Blues No More
Debuting a brand new car for the 2023 season has not been without struggle for multi-time champion Glenn Watson. Rounds 1 and 2 of the tour saw the Barrie, ON veteran working hard to sort out his new ride and find a way to get the car what it needed in order to get the most out of it. This past Saturday, as Sunset played host to Round 3, Watson reaped the fruits of his labour – dominating the 75-lap event for his first victory of the 2023 campaign.
Hot Streak Rolls On
Championship contender Brandon Passer has still yet to finish outside of the top-2 after 3 events this season. That's how championships are won. A win in Round 1, followed by runner-up efforts in Rounds 2 and 3, have shown a maturation in Passer's driving. There's no hint of a 'all or nothing, go for broke' style. What he's become is a patient, calculating and cerebral competitor – all of which was on display at Sunset. Solid points nights aren't as sexy as race wins – but when it comes to championships, they don't ask 'how?'. They only ask 'how many?'.
Hit The Ground Running
Rising star Ethan Courneyea debuted a brand new, freshly built Junior Hanley creation for Round 3 of the tour – and didn't take long to come up to speed with it. The Lefroy, ON native set fast time in qualifying and immediately followed up with a 3rd-place finish in the 75-lap Canada Day Cash-In main event. If Courneyea can continue to fine-tune his new piece, don't be surprised to see him contending for multiple trips to victory lane by the time 2023 is at its close.
Bounce Back
Mike Wilkinson was left with a frustrating DNF in his Round 1 visit to Sunset in early June. Not the performance the Innisfil, ON hotshoe was looking for at the track he called home for the better part of a decade. However, when the tour rolled back into town for Round 3, Wilkinson made sure to turn in a solid performance for the hometown crowd. After showcasing significant speed all night long, Wilkinson brought his Roy Passer-owned entry home with a 4th-place finish and valuable data to build on for the tours final trip to Sunset on September 16th.
Not Taking No For An Answer
If you look at the results sheet at the end of the night and think you have an idea of how Scott Beatty's day went – think again. The longtime Simce County racer broke a driveshaft in afternoon testing and scrambled to make repairs in time for qualifying. With minutes to spare, he was ready to roll out for time trials. In the 75-lap main event, he had begun to show some serious speed before brake issues sidelined him shortly past the halfway mark. Racing's not always about the destination, but rather the journey getting there. Beatty had every reason to pack his stuff up, haul home and cut the grass. But, he didn't. He gutted it out, found a way to make it on track and got the most out of his equipment before his equipment decided it had enough. Racers race. We can't wait to see him back.
Finish
Sunset July 1
Finish
#
Driver
1
22
Glenn Watson
2
17
Brandon Passer
3
51
Ethan Courneyea
4
27
Mike Wilkinson
5
03
Dario Caprichio
6
8
Gary McLean
7
52
Adrian Foster
8
73
Mike MIller
9
88
Scott Beatty
10
14
Thanye Hallyburton
11
64
Chris Burrows