Glenn Watson Leads Flag-to-Flag in Super Late Model Feature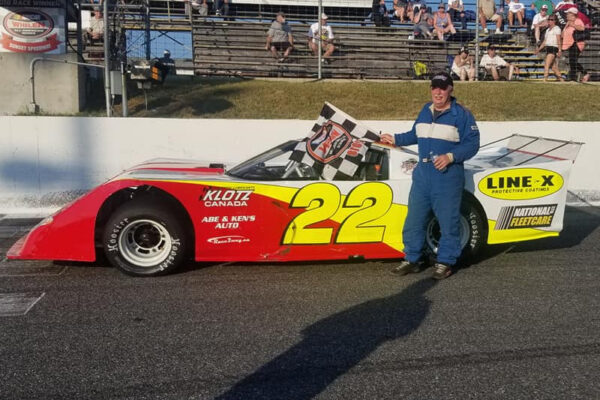 Tuesday - July - 2018
Courtesy www.ShortTrackMusings.com / Ashley McCubbin –Taking the lead off the drop of the green flag, Glenn Watson led flag-to-flag en route to winning the Ontario Outlaw Super Late Model feature on Sunday at Sunset Speedway.
John Cadman started pole following time trials ahead of Watson, Jordan Howse, J.R. Fitzpatrick, Sean Grosman, Dario Capirchio, Chris Burrows, Jamie Richardson, Roy Passer, Brandon Passer, and Quinn Misener.
Watson would grab the lead on the opening lap ahead of Fitzpatrick and Howse, with Cadman back to fourth ahead of Grosman, Capirchio, Roy Passer, Burrows, Brandon Passer, Richardson and Misener. Richardson would get alongside Brandon for ninth at Lap 6, but was unable to complete the pass.
Further up the field, Cadman got alongside Howse for third at Lap 8, completing the pass. He then challenged Fitzpatrick for second, taking the spot on Lap 10. Fitzpatrick now ran third ahead of Howse – until Lap 11, as Grosman made his way by for the sport. Howse would then make his way down pit road the next lap, bumping Capirchio up to fifth ahead of Roy Passer, Burrows.
Unfortunately, competitors continued to run into problems as both Misener and Brandon Passer made their way down pit road just before the halfway point.
The second half of the event saw the field strung out with the leaders navigating through lap traffic. Cadman was able to close the gap to Watson and challenged for the lead with five to go, but was unable to clear him and take the top spot.
Glenn Watson picked up the win ahead of John Cadman, J.R. Fitzpatrick, Sean Grosman, Dario Capirchio, Roy Passer, Chris Burrows, and Jamie Richardson.