Ethan Cournyea Picks Up First Career Ontario Outlaw Super Late Model Victory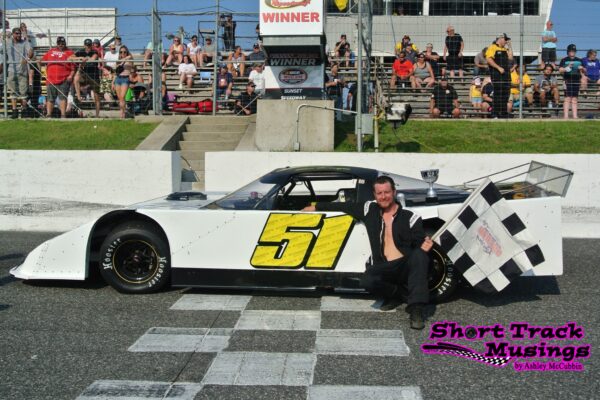 Tuesday - July - 2021
INNISFIL, Ontario — The hard work over the last few years paid off in a big way for Ethan Cournyea, as he scored his first career Ontario Outlaw Super Late Model feature victory on Sunday at Sunset Speedway.
The first heat featured a quick yellow flag after Gary Passer looped it around in turn four on Lap 2. Sean Grosman picked up the checkered flag ahead of Glenn Watson, Gary Passer, Todd Campbell, Chris Burrows, Ethan Cournyea, and Gary Passer.
John Cadman won the second qualifier in front of Mike Wilkinson, Dustin Jackson, Dario Capirchio, Mike Miller, Trevor Monaghan, and John Owen.
Ethan Cournyea scored the win in the third heat ahead of Passer, Grosman, Watson, Campbell, Burrows, and Foster.
Mike Wilkinson won the fourth qualifier in front of Cadman, Capirchio, Monaghan, Miller, and Owen.
Come feature time, Todd Campbell started pole ahead of Ethan Cournyea, Dario Capirchio, Glenn Watson, Gary Passer, Sean Grosman, Mike Wilkinson, John Cadman, Chris Burrows, John Owen, Mike Miller, Adrian Foster, Trevor Monaghan, and Dustin Jackson.
Before the drop of the green flag, Watson's car would die, requiring a push to pit road. A quick fix by the crew, and he would be back on-track, forced to start from the tail of the field now. Monaghan unfortunately did not have the same luck, getting a push off of the track to the pits.
Once the green dropped, Ethan Cournyea would jump out to the early lead ahead of Campbell, Passer, Capirchio, Wilkinson, Cadman and Grosman, with Foster and Owen side-by-side for eighth. Meanwhile, Miller headed pit side on Lap 3 with mechanical issues.
Wilkinson would get alongside Capirchio for fourth on Lap 4, with Watson moving into eighth behind them. Wilkinson got the spot three laps later, immediately challenging Passer for third. He would continue moving forward, taking over third on Lap 10, with Jackson passing Owen for ninth deeper in the field.
Cadman would look to move forward, challenging Capirchio for fifth on Lap 14, and completing the pass a lap later. Grosman would look to follow him through, but was instead challenged for seventh by Watson. Cadman's progress continued, though, as got by Passer for fourth.
With 17 laps on the board, Cournyea continued to lead ahead of Wilkinson, Campbell, Cadman, Passer, Watson, Grosman, Capirchio, and Foster. Watson would make the move on Passer for fifth on Lap 21, thought got loose two laps later. This would allow Grosman to challenge for sixth, but unable to complete the pass.
Cadman's climb continued, as he got by Campbell for third at the halfway mark, with both Watson and Grosman making their way by Passer for fifth and sixth, respectively, a couple laps later. The dynamic duo continued to move forward, with Watson passing Campbell for fourth on Lap 30, and Grosman following through a lap later for fifth. Grosman would try once again to get a run underneath Watson with 15 laps to go, but was unable to do so.
Ethan Cournyea led the rest of the way en route to scoring the victory ahead of Mike Wilkinson, John Cadman, Glenn Watson, and Sean Grosman.
Ontario Outlaw Super Late Models Results
Ethan Cournyea
Mike Wilkinson
John Cadman
Glenn Watson
Sean Grosman
Todd Campbell
Dario Capirchio
Dustin Jackson
Adrian Foster
Gary Passer
Chris Burrows
John Owen
Mike Miller
Trevor Monaghan – DNS
Heat Winners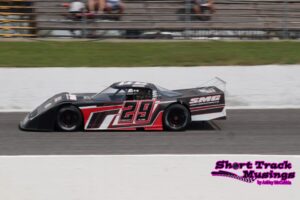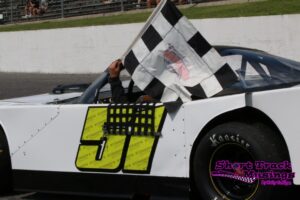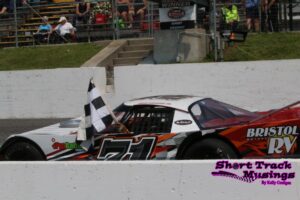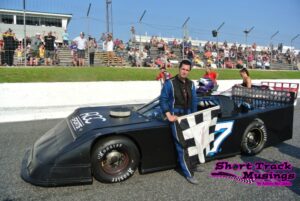 Check out a full raft of photos on Ashley's page @ https://www.facebook.com/media/set/?vanity=ShortTrackMusings&set=a.289242772949512
Courtesy of Ashley McCubbin @ Short Track Musings