Dustin Jackson Scores Long Awaited First Career SLM Victory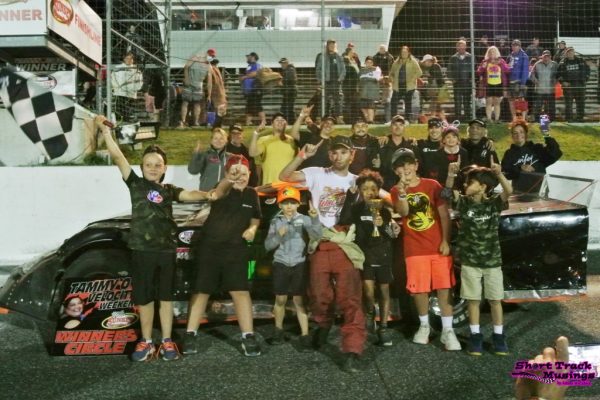 Thursday - September - 2021
INNISFIL, Ontario — The long hauls each week from the Sault St. Marie finally paid off for Dustin Jackson, as he scored his first career Ontario Outlaw Super Late Model Series victory on Sunday at Sunset Speedway's Fall Velocity.
Brandon Passer was victorious in the first heat in front of Todd Campbell, John Owen, Glenn Watson, and Chris Burrows.
The second qualifier featured a big crash with Robert Hiiemaa getting sideways, collecting Donnie Varcoe and Trevor Monaghan in the process. Dustin Jackson picked up the checkered flag in front of John Cadman, Mike Wilkinson, Scott Beatty, Marlie Owen, Mike Miller, and Kevin Errington.
The third heat got ugly, with Dario Capirchio getting into John Owen, leaving Ethan Courneyea nowhere to go as he hit the right side of Owen. Passer went for the daily double in front of Watson, Burrows, and Campbell.
Marlie Owen became the first female to score a Super Late Model checkered flag in Ontario in the fourth qualifier ahead of Jackson, Wilkinson, Cadman, Beatty, Errington, and Miller.
Come feature time, Mike Wilkinson started pole in front of John Cadman, Todd Campbell, Dustin Jackson, Brandon Passer, Marlie Owen, Glenn Watson, Scott Beatty, Chris Burrows, Mike Miller, Trevor Monaghan, Kevin Errington, John Owen, Randy Lapossie and Dario Capirchio.
John Cadman would grab the early advantage ahead of Jackson and Wilkinson, as Lapossie and Capirchio both headed pit side, done for the event. Passer moved up into fourth in front of Watson, Campbell, Marlie Owen, Beatty, John Owen, and Chris Burrows. John began to move forward, passing Beatty for eighth on Lap 8, as Errington ran 11th in front of Monaghan and Miller.
John's progress continued, as he passed his daughter Marlie for seventh on Lap 10, with Errington moving up to ninth ahead of Beatty and Burrows on Lap 32.
Everything got strung out single-file through the middle portion of the event, but began to get interesting once the race reached the halfway mark. Dustin Jackson would close the gap on Cadman for the top spot, getting alongside him on Lap 38, with the caution coming out the same lap for Burrows going around in turn two.
Dustin Jackson would get a good restart with Cadman and Passer side-by-side for second, but the yellow flag returned for Beatty slowing on the frontstretch on Lap 39.
Jackson got another good restart ahead of Cadman and Passer, as Watson and Wilkinson battled for fourth in front of John Owen, Campbell, and Marlie Owen. The troubles continued to plague drivers, with Kevin Errington heading down pit road on Lap 44, and a caution two laps later for Wilkinson stopping in turn two with issues.
Jackson kept the good restarts coming as Watson and Cadman battled for second, with Watson taking over the spot on Lap 51, and Passer following him through to bump Cadman back to fourth. The yellow flag then returned, courtesy of Burrows and Campbell going around in turn two.
Jackson got a good restart once again ahead of Watson, Passer, John Owen, and Cadman, with Passer making the move on Watson for second at Lap 62. The field would get strung out, with everything coming to a stop on Lap 73 for John Cadman going up in smoke, laying fluid down around the speedway, with Marlie Owen going around on the frontstretch in it.
Race officials would make the decision to call the event, with Dustin Jackson getting the win in front of Brandon Passer and Glenn Watson.
Race report & photos by Ashley McCubbin
Heat Winners