Dario Caprichio Wins the Biederman Memorial Presented by Simcoe Barge and Breakwall at Flamboro Speedway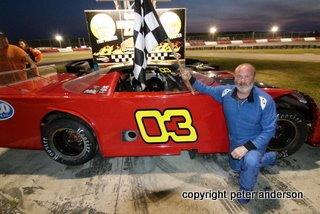 Monday - June - 2023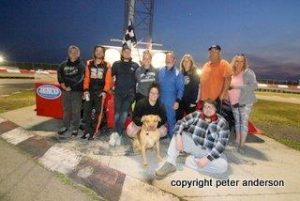 Three Important Takeaways from Round 2 at Flamboro Speedway
Fresh off of a dramatic season opener at Sunset Speedway on June 3rd, the Ontario Outlaw Super Late Model Series hit Flamboro Speedway for Round 2 on June 17th.
Here are the three biggest storylines from the action-packed event.
1. Dario Is For Real
After displaying impressive speed en route to a runner-up finish in Round 1, Dario Capirchio entered Flamboro intent on proving that his Sunset performance was anything but a fluke. The Gilford, ON veteran was impressive all night long and hunted down Jenco Equipment-teammate Brandon Passer in the race's late stages for a picture-perfect pass and his first win of 2023. From what we've seen thus far, Capirchio should be considered a threat to win anywhere he unloads and is just now beginning to find his stride behind the wheel of a Super Late Model.
2. Brandon Passer Championship Hopes Alive and Well
Immediately upon climbing from his race-winning ride in Round 1 at Sunset, Brandon Passer made it very clear to anyone who would listen that his goals were set on a 2023 tour championship. The Lefroy, ON standout kept those hopes very much alive at Flamboro, leading a multitude of laps before eventually settling for a runner-up finish. Passer currently sits tied with Capirchio atop the tour's points standings, with both competitors headed for Round 3 at Sunset on July 1st to battle it out for the top spot.
3. Glenn Watson Continues to Elevate
Multi-time tour champion Glenn Watson overcame the proverbial 'new car blues' that dogged his team at Sunset with an impressively solid evening at Flamboro. Watson walked out of Round 2 with a 3rd-place finish and it's to argue that we have not yet seen the best of his freshly built chassis. Watson is currently tied for 3rd in the points standings, but he's one big night away from vaulting to the top of the standings. Expect Watson to unload at Sunset on July 1st prepared for his most impressive showing to date.
Finishing order
Flamboro June 17
Finish
1
03
Dario Caprichio
2
17
Brandon Passer
3
22
Glenn Watson
4
8
Gary McLean
5
27
Mike Wilkinson
6
07
Todd Campbell
7
52
Adrian Foster
8
73
Mike Miller
9
64
Chris Burrows
10
40
Charlie Gallant
A big thank you to Simcoe Barge and Breakwall for sponsoring this race