Brandon Passer wins the Norcom Supply 75 at Sunset Speedway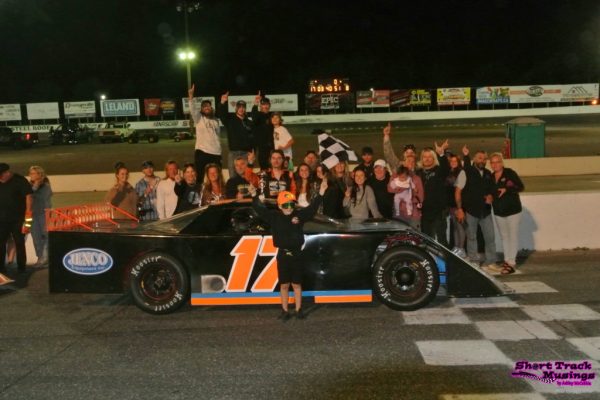 Friday - June - 2023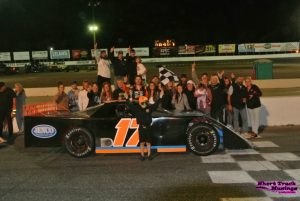 4 Big Stories to Monitor as the Ontario Outlaw Super Late Model Series Leaves Sunset
# 1 Statement Maker – Brandon Passer narrowly missed the 2022 Ontario Outlaw Super Late Model Series championship, finishing 2nd by 4-points to eventual champion Glenn Watson. Saturday night, Passer asserted himself as a contender for the 2023 points, crafting a workmanlike performance in the 75-lap feature event. From a tremendous side-by-side battle with longtime friend Ethan Courneyea in the early going to eventually turning back multiple charges from Glenn Watson later on, Passer left Sunset looking like an absolute star.
# 2 New Car Blues – Glenn Watson debuted a brand new car on Saturday night. How new? Well, the first time it had been down on all four wheels was the morning of the race itself. The 3-time series champion set quick time in time trial qualifying – the only car to dip into the 13-second range – and then battled with a number of setbacks throughout the evening's 75-lap feature event. Through a fluid leak, contact with other cars and a solo spin, Watson continued to charge through the field. Watson passed more cars than anyone else on the property by the time it was all said and done. If the car's maiden voyage was any indication, the newest incarnation of the No. 22 should be an absolute beast on the 2023 tour.
# 3 Money Lap – The last lap of Saturday's 75-lap is the one that had fans and crew members alike buzzing as they exited Sunset Speedway. Granted, Brandon Passer's victory had people talking – however – there were as many or more left talking about the last lap, last corner incident between Charlie Gallant and Ethan Courneyea. As the pair raced for 3rd, coming to the finish line,
# 4 Darkhorse – If Dario Capirchio had entered the series opener as an overlooked underdog, there's a solid chance his runner-up finish will have people thinking twice about his chances when the tour hits Flamboro for Round 2. The Gilford, ON racer had a fantastic performance at Sunset that will, undoubtedly, help to assert him as a favourite to launch a breakout campaign on the 2023 tour.
1             17           Brandon Passer
2             03           Dario Caprichio
3             51           Ethan Cournyea
4             8             Gary McLean
5             22           Glenn Watson
6             64           Chris Burrows
7             52           Adrian Foster
8             73           Mike MIller
9             27           Mike Wilkinson
10           07           Todd Campbell
11           14           Thanye Hallyburton
12           40           Charlie Gallant
DNS       88           Scott Beatty
The Outlaw's race night was sponsored by Norcom Supply of Barrie – Provider of VOIP Telephone Systems, Network and Security Camera Systems.  Check out https://norcom.net