Brandon Passer Captures 2022 Don Biederman Memorial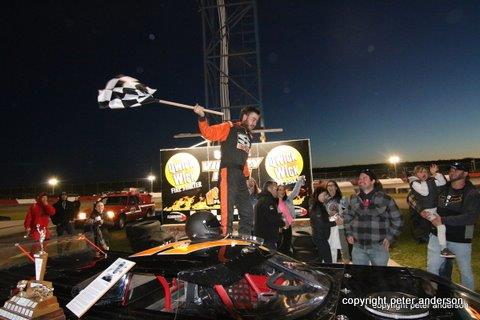 Monday - June - 2022
The Lefroy, ON native – a multiple-time winner in Sunset Speedway Super Stock competition – took the lead from the outside-pole at the drop of the green flag and never looked back. 
Multi-time Super Late Model champion Glenn Watson dogged Passer throughout the event, flirting with the lead but never finding the opportunity to complete a pass. 
At the stripe, Watson settled for second, with Fast Time setter John Cadman, Dario Capirchio and Ethan Courneyea completing the top-5.
Thank you to Jenco Equipment in Innisfil for sponsoring the race event. Jenco has over 50 years in the portable sanitation industry, you can find out more about Jenco at https://www.jencoequipment.ca/
Next Event: Saturday July 2nd at Delaware Speedway
Finishing Order
| | | |
| --- | --- | --- |
| Pos. | Car # | Driver |
| 1 | 17 | Brandon Passer |
| 2 | 22 | Glenn Watson |
| 3 | 71 | John Cadman |
| 4 | 03 | Dario Caprichio |
| 5 | 51 | Ethan Cournyea |
| 6 | 27 | Mike Wilkinson |
| 7 | 07 | Todd Campbell |
| 8 | 29 | Sean Grosman |
| 9 | 73 | Mike Miller |
| 10 | 64 | Chris Burrows |
| 11 | 52 | Adrian Foster |
| 12 | 04 | Trevor Monaghan |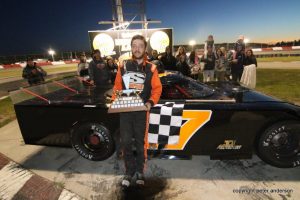 Top 3  – 1st Brandon Passer, 2nd Glenn Watson, 3rd John Cadman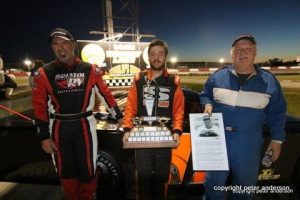 Fast Time in Time Trials – John Cadman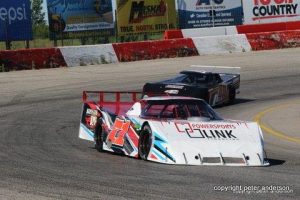 Race Video Compliments of Petal Power  https://www.youtube.com/watch?v=j4_jPF6wbAo